The first round of EnduroKA was my first race in a real car on a real track with real danger and real reward.
The whole experience felt totally familiar whilst being at the same time totally alien to me. I had done approximately 500 laps of Donington Park prior to the first EnduroKA test session a few weeks before round 1. I felt confident I knew my braking points and apexes; I knew where was good to overtake and where was bad; I'd practiced pit entry and exit, I knew every corner and which gear I should be in.
Despite my 500 laps I'd never actually been to Donington Park in person.
That's right, I'm a sim racer.
"Sim racing" can be a bit of a dirty word in some circles in motorsport and so I felt quite self-conscious mentioning it to people in the paddock. Would they look down on me? Would they assume I was going to be aggressive on track? Perhaps they thought I would have less respect for the danger involved in motorsport?
There are some obvious differences between sim racing and real racing and some less obvious differences. One difference that really struck me at first was the holistic feel of a "race weekend" that you don't get as much in sim racing. The whole weekend was an event in itself. Travelling to the track; meeting the team at a hotel/pub; discussing logistics and strategy; checking into a hotel; watching the safety brief (online!), it all added to the building sense of excitement, building up the race in our minds to be at the pinnacle of this set of moving pieces called "a race weekend".
On Sunday 3rd April at 8am, I arrived at the track, ready to get going. There were a lot of boxes to tick before you could get going. Signing in; safety equipment scrutineering; car scrutineering; noise check (not an issue for us!) and safety briefs all had to be completed before we could get started with qualifying. Again, this all added to the building sense of anticipation for the main event.
I was first out for qualifying!
(I actually drove to the assembly area for qualifying twice thanks to an under-pressurised fire extinguisher!)
Those who have raced before know the drill. You send out your slowest driver first, on a green track with a full tank of fuel and give them a nice short stint to warm up the tyres. You progress through your team until your fastest driver puts in the final stint on warm tyres, on a rubbered track, with just a few drops of fuel left in the tank to bang in the fast laps. And that's exactly what happened! We sat around 45th position (out of 48) for the first 40 minutes of qualifying before Toby, our veteran MX-5 driver jumped in the car and put in a great lap to put us up to P18 in the final seconds of the session – great result!
Given how "out of position" any other member of the team would have been in P18 at the start, we decided Toby would do the first stint of the race. He put in an excellent performance, climbing a few places in the opening laps before being spun 360 down the Craner Curves. He recovered well and ended his stint P2 after a team decision to not pit for a safety car.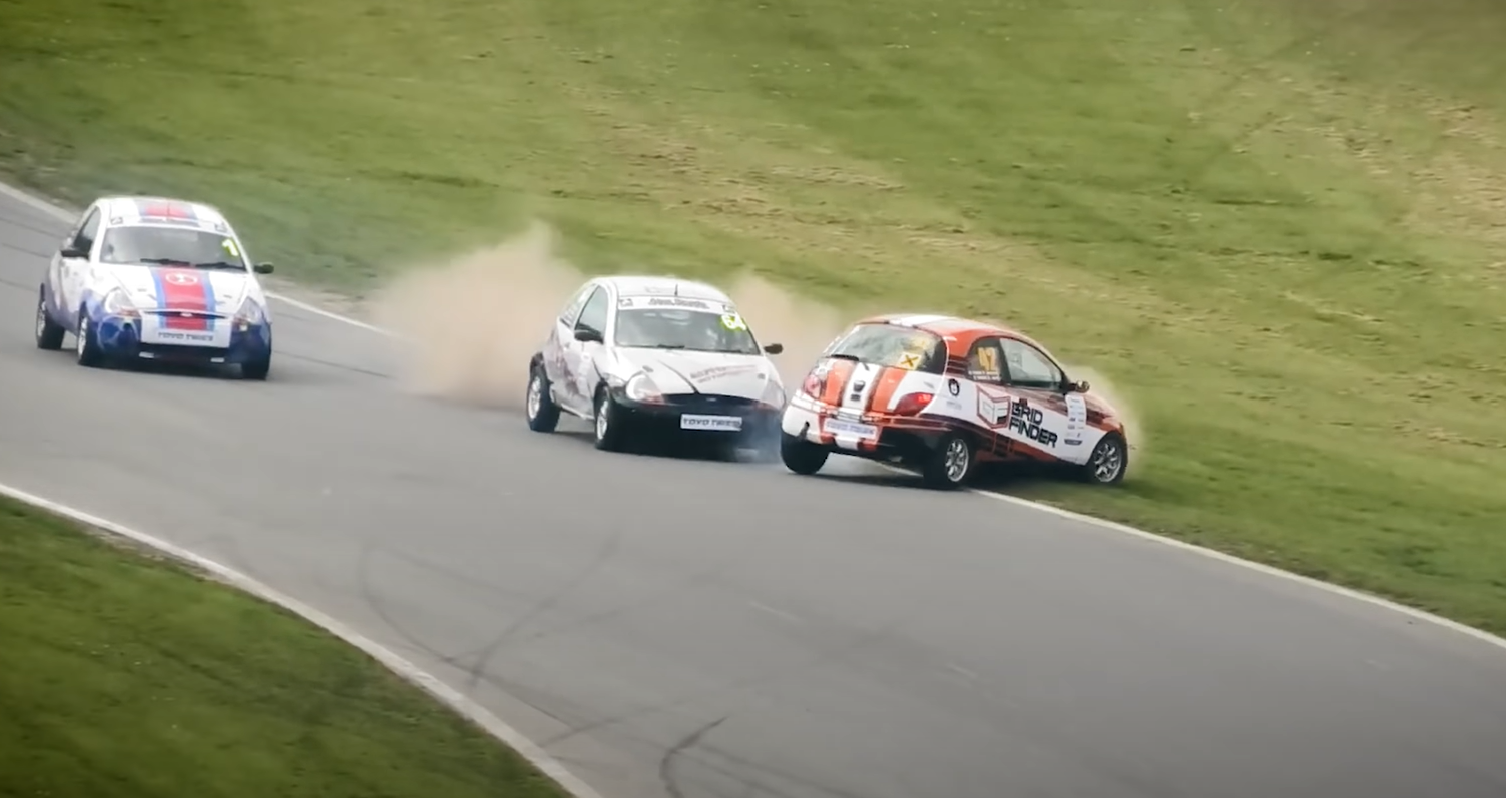 I did the second stint!
Getting into the car was a blur, I think Toby gave me some advice as I got in and buckled up but I didn't hear it. The post-race data suggested I came out of the pits somewhere around P20 but I had absolutely no idea. We had no radio for this race, I pulled out of the pits and onto the start finish straight, totally isolated from the team back in the garage and totally alone on track.
It was possibly the most optimal set of opening laps any new driver could hope to experience in their first race.
I had about 10 seconds of clear track ahead and behind me when I started my stint, so I had time to get myself into a rhythm and allow the nerves to subside… a bit. Those nerves came crashing back after a few laps when I started catching up to a pack of cars ahead.
This is where my sim racing experience really helped.
Having only done a couple of track days up to this point, racing with equal machinery was totally new to me and I had no idea how I'd react - I'd never done an overtake before in real life! I closed up to a car ahead through the old hairpin and remained a cars length behind all the way up the hill to Starkey's straight. I got a better exit from Coppice and could see my first overtaking opportunity approaching.
As I pulled out from behind the car ahead at the start of the straight, I distinctly remember feeling totally confident in what I needed to do. I was slowly pulling up alongside, subconsciously registering when my left wing mirror was in line with their rear bumper, their back window, their front window and then we were level, just as we reached the small crest before the braking zone. I was waiting until I either felt uncomfortable with the diminishing braking zone or until I saw the bonnet of the other car tip forward, indicating that the driver had hit the brakes. The driver of the other car hit the brakes. I waited a half second before hitting my own brakes. I braked in a straight line. The other car was still on my left and slightly behind, so I turned in late and allowed the car to wash out wide on the exit to defend against the switch-back.
And I was through!
It was my first overtake and it wasn't an "easy" pass. It took a little bit of thought and some confidence to brake later into the chicane.
I absolutely loved my stint. The car had great pace and I managed about 10 overtakes over my 75 minutes, with some really great battles all the way through. I pulled into the pit lane in P10 and handed the car over to our third driver, Darren.
Sim Racing can't prepare you for the adrenaline of driving side by side with another car and it can't prepare you for the "fear factor" of driving fast (ish) around corners and into braking zones, but I am convinced that I wouldn't have had the confidence to attempt 90% of the overtakes I did during that first race if it wasn't for my experience of sim racing online.
Here's 1 minute 40 seconds of a lap full of overtakes I was particularly happy with:
Overall, the race weekend was a huge success for the team and for me personally. We achieved what we set out to achieve; we gained some really useful experience and built up confidence that we can take into the next rounds.
First race done. Loved every second. Bring on Cadwell!
Watch the second episode of Chris' YouTube series on EnduroKA here:
https://www.youtube.com/watch?v=wkVd0PMAWcM&t
Written by Tom S Bunten, founder of Grid Finder