So, spoiler: we finished P5!
This weekend has quashed any doubt in my mind that I might not forever want to be a member of a racing paddock.
Cadwell Park brought me and the team so many great memories. In some ways, it was more memorable than my first ever race at Donington Park last month.
Donington Park was a lot of fun but it felt a lot like a warm-up. The team was still getting to know each other; Chris and I had never driven "in anger" on-track before and the team as a whole was very "green".
Cadwell Park represented a very distinct shift in my mindset and in my approach to the race weekend. Donington was all about identifying and ironing out all the unknowns about the mechanics of a race weekend: the sign-on, scrutineering, race briefings, procedures etc. In the lead up to Cadwell Park, I was thinking only about performance.
We spent a lot of time on the sim; learning the lines; discussing which gear to go up the mountain in; scaring ourselves on the exit of the Goose Neck and practicing various overtaking spots. These sessions definitely helped me build up confidence for the race weekend. What didn't help me was watching YouTube videos of onboard laps! Every onboard video I watched on YouTube had at least 2 or 3 moment of "KAOS" involving drivers flipping and rolling their cars…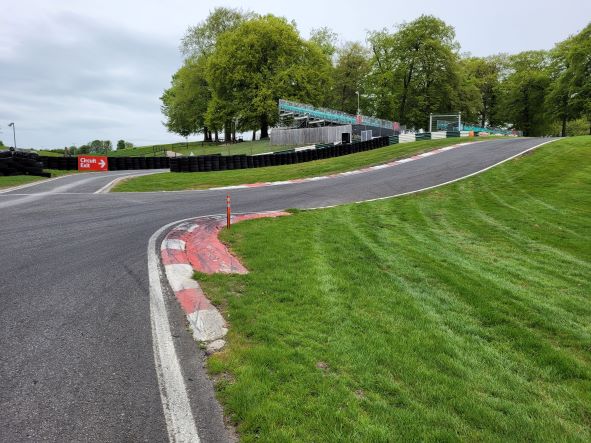 We were unfortunate to lose a team member 2 weeks before the race. Darren Cook was unable to join us for Cadwell Park and will not be racing with us at Anglesey.
However, when one door closes…
We were honoured to be joined by 2020 Britcar Champion, Jem Hepworth.
As well as incredible raw pace and talent, Jem brought with her a huge amount of Endurance Racing experience that we could all benefit from during the weekend. Jem also brought with her Tara Strong, founder of Motorsport Woman. It was a privilege to have Tara with us under the awning, sharing with us all the tips and tricks she's accrued from numerous paddocks at countless events across her extensive career in motorsport.
We were well set up for a good weekend.
TESTING
On Friday we had four 45 minute test sessions to get our eye in and learn the track. As ever, Toby, Chris and I went through the same slightly trippy experience of both knowing and not knowing the track. The track we had been running in the sim was very similar to real life, but as always, there were subtle but significant differences which we had to readjust to.
Before the test session, I asked Jem what her approach was to learning a new track. She said that she always explored a new track at a moderate/slow pace for longer than most people, but there is always a point where it "clicked" and she would just start flying.
Now due to some logistical mishap, we were without an AIM (in-car lap timer) on the test day so we resorted to timing our laps by sitting next to the track with our phone timers out. Tara and I timed Jem during her run and saw exactly what she had described, the laps in the first half of her stint were clearly sighters. Then all of a sudden the times tumbled by a second per lap, every lap until she was hitting the same times that would become some of our best during quali and the race.
I was last out for testing – and it was tough. I exited the pits and immediately felt a difference in the gear box. After a couple of slow laps to see the circuit, I tried to up the pace, only to find that the car seemed to love fourth gear so much it wouldn't go down to third! I managed to slow and get the car into second gear and return to the pits.
ARRIVE & DRIVE
This is where running with an Arrive & Drive team, in our case Graves Motorsport, really came into its own. We needed a new clutch. Had I been a "privateer" running my own car at this point, I would have pulled into the pits, got the car up onto jacks (somehow) and then Googled "how to change a clutch on an old Ford KA". Half a dozen comical hours would have followed with me hacking a new clutch into the car before inevitably having to retire at the start of qualifying after realising I'd fitted it in backwards.
Graves had the old clutch out, the new one in, the car ready for qualifying and some sly words about our driving style out in under an hour – incredible work.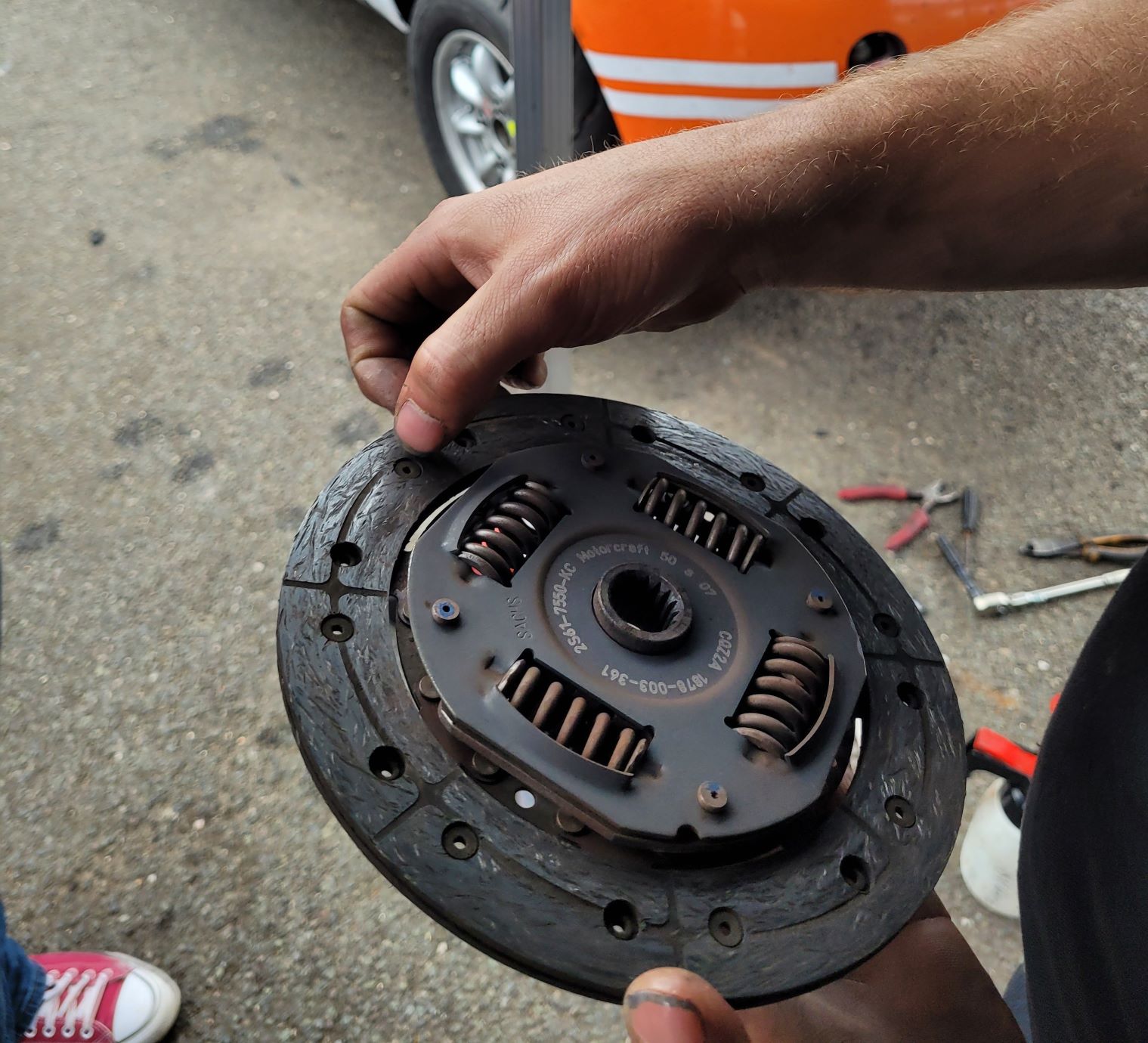 QUALIFYING
We had a solid qualifying session. I went out first, 3 flying laps, clutch felt great, back in. Chris went out, 3 flying laps, solid times, back in. Jem went out, 5 flying laps, solid times, back in. Toby went out, finished the session, solid times, back in.
P19. We were happy with that. Nothing more to report.
RACE
We started the race smack bang in the middle of the pack. The YouTube videos of flipping KAs were running through my head, it's a tough track for overtaking so the start would be intense.
We put our most experienced driver in the car for the start: Jem.
Jem executed the perfect start for a 6 hour endurance race, she kept it clean and had no incidents. Consistency, pace & racecraft took Jem all the way up to P3 from P19 by the end of her 2-hour stint.
"For me racing is about having fun and I can say I had so much fun with Grid finder in the Ford KA Enduro race at Cadwell Park. It was different to what I'm use to driving for sure. Going back to a FWD car was cool and it reminded me of my beginning of my career. I really enjoyed driving the Ford KA and the racing out there was very close and competitive! Which I like. I now can't wait for the next one!" - Jem Hepworth
We opted to put Jem and Toby, our fastest drivers, in the car for longer stints so that we could get away with just 2 fuel stops. Toby went out for his 2-hour stint and was very quickly up to pace. Watching on from the awning, everything seemed to be going well. Toby was climbing up the order, Chris was filming some content for the YouTube series, Jem was recovering from her stint and Tara and I were sat watching the timing screens.
But then…
One of the other Graves cars pulled into our awning with a big orange streak along their front bumper. It seemed a bit suspicious. As it turned out, they had been spun by another car and ended up sat side-on to the track. Toby slammed on the brakes of our little tangerine to avoid contact but incurred what we'll call a "glancing blow" to the other car, depositing our fluorescent orange paint along their front bumper.
Toby avoided race-ending damage and put in an incredible stint to get the team up to P3 by the end of his 2-hour stint.
Chris was next.
We had decided as a team that we would pit Chris after an hour or at the next safety car, whichever came soonest. This marked the shift in our mindset from casual to competitive. At Donington we completely ignored safety cars to ensure everyone got an equal amount of track time. At Cadwell, Chris got just 5 flying laps to allow the team to capitalise on the safety car timing. By taking this approach, we gained at least a lap and a half which undoubtedly secured our top 5 finish.
"With Cadwell being an incredible circuit to race you'd be forgiven for thinking I'd be disappointed with such a short amount of time in the car. But, the call saved us a lap and half; the ends more than justified the means in my mind" - Chris Haye.
Thanks Chris!
I was in the car for the last stint. With just over an hour left, I exited the pits in P13 with a top 10 finish as my personal goal. The first, big glaring difference I noticed from Donington was our radio communication. Having Karl Graves in my ear, updating me on my position & my distance ahead and behind to the cars I was racing was a complete game-changer.
I was lucky to come out of the pits with plenty of space ahead and behind to get up to speed. I'd only had 3 flying laps with a working clutch up to this point, so I was very glad to have the opportunity to ease into the race.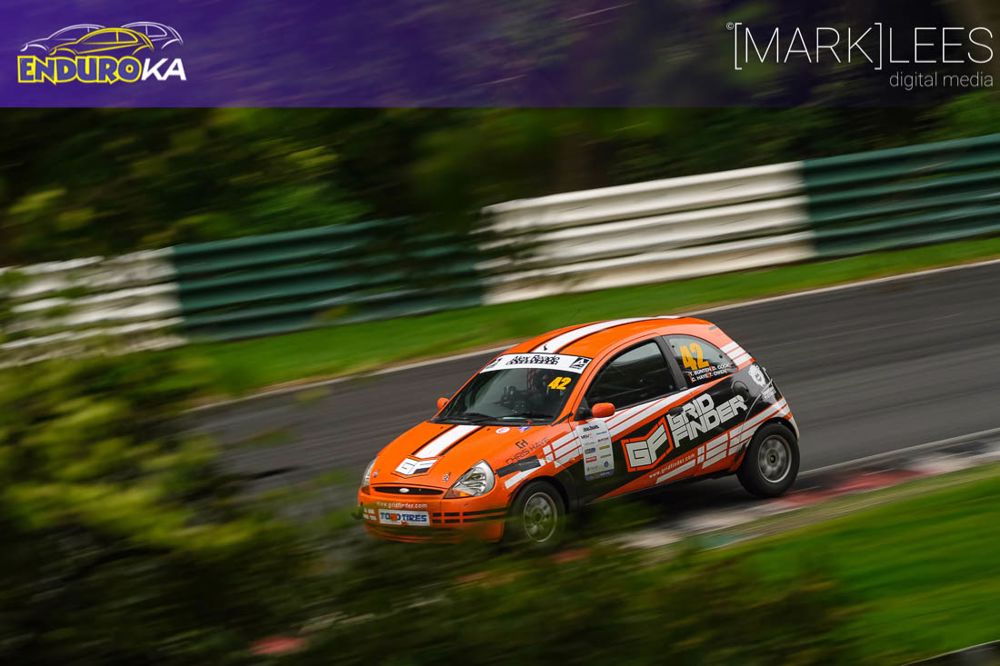 I found my pace, took a couple of seconds off my previous best lap time and started hunting down the cars ahead. My favourite places to overtake were the Chris bends and the Mountain, I seemed to be getting good exits from Park Corner and the chicane. Although my exits were good, overtaking into the Goose Neck and into the Hall Bends was not what I had been expecting to be doing before the race! Luckily this element of surprise seemed to work both ways, surprising both me and the cars I overtook!
I managed half a dozen overtakes on track and inherited two places through strategy, I also lost a place to a much faster driver. This resulted in me being P6 with about 20 minutes to go with a 20 second gap to P5.
I chased down P5 for about 10 laps before meeting him on the long uphill straight up to Park corner. I got the inside and made the move stick! P5 felt a bit surreal, and I was conscious that P6 wouldn't be giving up. I had a fantastic race with VEC Motorsport for a few laps before opening a gap.
We ended up finishing 2 seconds behind P4, a fantastic result for such a new team.
The feeling in Parc Fermé at the end of the race was one I'll never forget. Pulling the mean tangerine alongside a cheering team in their black and orange Grid Finder kit felt like a bit of a dream. My first taking the chequered flag is not an occasion I'll forget in a hurry.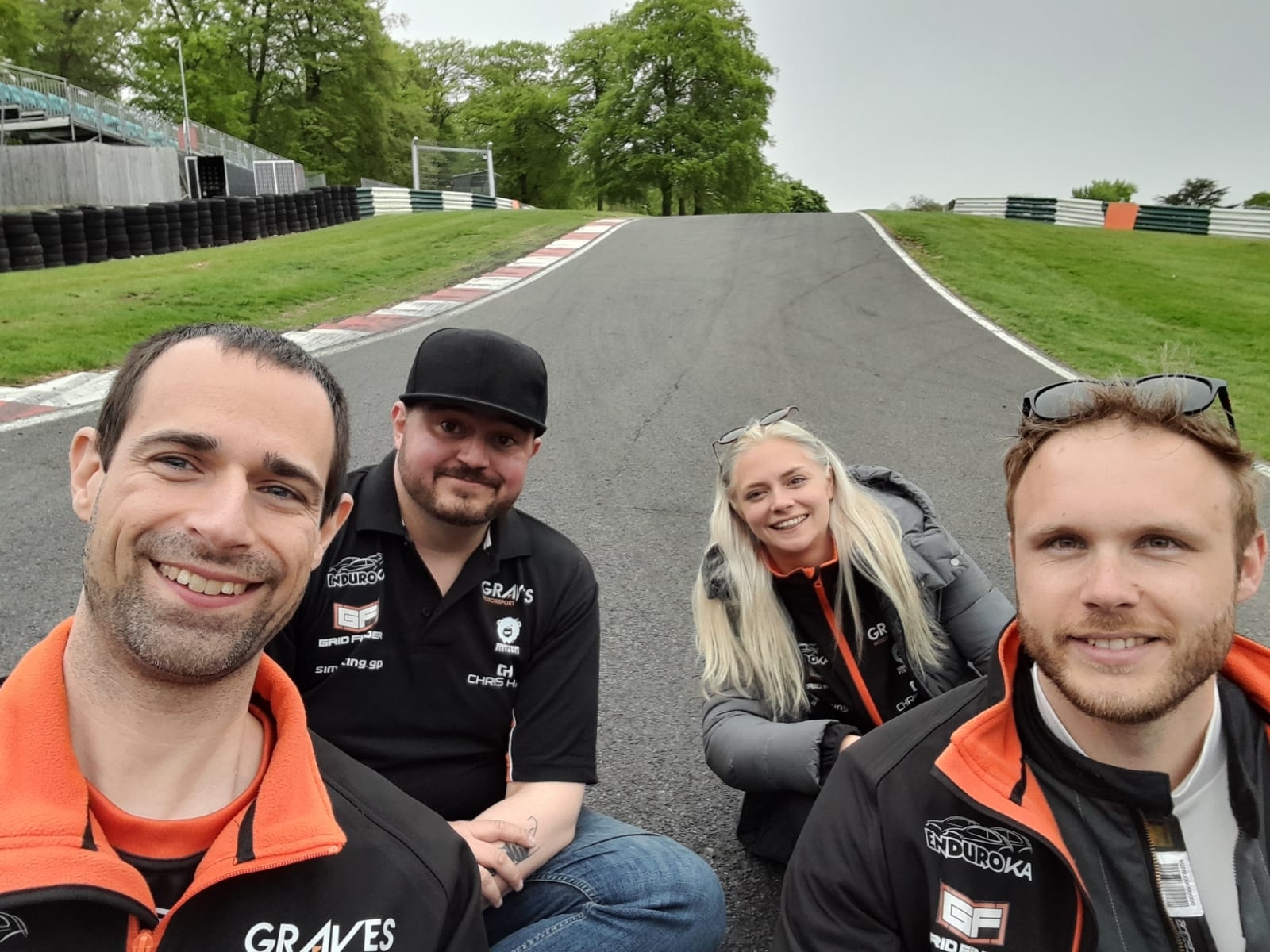 I got out of the car and went straight over to the VEC Motorsport driver I'd been battling with to shake his hand and compliment his driving. The whole paddock was buzzing at the end of the race, everyone crowding around their drivers to discuss the on-track action and explain the complicated maths the proved that they should have actually been [insert much higher position here] at the end of the race.
Overall, the team had a fantastic weekend. We welcomed Jem to the team, learned a load about endurance racing from her and Tara, gained experience as a team and topped it off with a P5 finish.
Our next race is Anglesey which will bring new challenges: driving in the dark and driving in the rain (probably!).
As always thanks to everyone for making this all possible. Thanks to Graves Motorsport to providing a competitive car (and spare clutch!), thanks to the marshalls for keeping the track safe for us and thanks to the organisers at EnduroKA for putting together such a friendly series.
The mean tangerine will be back!
Written by Tom S Bunten, founder of Grid Finder